Recently published
Covid19 & Hirnerkrankungen - Maladies du cerveau - Brain diseases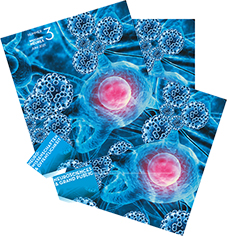 Version française : COVID19, VIRUS ET MALADIES DU CERVEAU : voir ci-dessous

English version: COVID19, VIRUSES AND BRAIN DISEASES : see below
COVID19, VIREN UND HIRNERKRANKUNGEN
Im Dezember 2019 begann die Covid19-Pandemie. Sie ist bis heute für Kliniker und Forscherinnen eine Herausforderung. Zunächst wurde das Coronavirus als Atemwegsvirus betrachtet. Doch schon bald wurde beobachtet, dass das Virus bei manchen Patientinnen und Patienten Symptome hervorruft, die auf eine Beeinträchtigung der Gehirnfunktion hindeuten. Zudem erholt sich ein signifikanter Anteil der Erkrankten nach einer Infektion nicht vollständig und leidet an verschiedensten Folgeerscheinungen, Long Covid genannt.
Von einigen Viren ist bekannt, dass sie speziell das Gehirn und das Nervensystem befallen, wie die Polio- und Tollwutviren. Andere infizieren in erster Linie andere Organe und lösen zum Beispiel Atemwegs- oder Magen-Darmerkrankungen sowie weitere Symptome aus. Allerdings lieferten vergangene Pandemien Hinweise darauf, dass einige Viren, von denen man annimmt, dass sie das Gehirn nicht befallen, bei manchen Patienten trotzdem neurologische und/oder psychiatrische Störungen verursachen können. Darüber hinaus zeigte sich, dass verschiedene häufige Infektionen mit vermeintlich harmlosen Viren schwerwiegende Folgen für das Gehirn haben können. Das wirft folgende Frage auf: Können Viren über die sichtbaren Effekte hinaus auch versteckte Wirkungen ausüben – dies manchmal, nachdem sie sich jahrelang still verhielten? Solche Hypothesen gibt es für neurodegenerative Krankheiten, die unser Gedächtnis, unsere Motorik und unser Denken beeinträchtigen – wie die Alzheimer-Krankheit, die Parkinson-Krankheit, Multiple Sklerose und Schizophrenie. Wenn diese Hypothesen zutreffen, könnten die erwähnten Krankheiten Spätfolgen einer Viruserkrankung in der Jugend sein.
Wie verhält es sich mit dem Coronavirus SARS-CoV2, das die Pandemie Covid19 verursacht hat? Was charakterisiert Viren im Allgemeinen und SARS-CoV2 im Besonderen? Warum sind manche Infizierte anfälliger als andere? Weshalb und wie kann SARS-CoV2 Symptome im Gehirn verursachen?
Beispiele in dieser Broschüre veranschaulichen, dass Viren mit lernfähigen Robotern verglichen werden können. Einmal in den Körper eingedrungen, sind sie in der Lage, ausgeklügelte Verteidigungssysteme wie diejenigen, die unser Gehirn schützen, zu überwinden. Sie können sich in unsere Zellen hacken und Wirkungen entfalten, die sich erst so spät zeigen, dass ihre Ursache möglicherweise nicht erkannt wird. Ein weiterer Aspekt in dieser Publikation betrifft die Frage, ob und wie besonders SARS-CoV2 zu einem späteren Zeitpunkt Gehirnerkrankungen auslösen kann. Vieles deutet darauf hin, dass es wichtig sein wird, die potenziellen Auswirkungen von Covid19 auf Gehirnerkrankungen langfristig zu beobachten und zu bewerten.
Klicken Sie hier für den vollständigen Text (pdf)
COVID19, VIRUS ET MALADIES DU CERVEAU
La pandémie de Covid19 survenue en décembre 2019 reste un défi pour les cliniciens et les chercheurs et a réservé son lot de surprises. D'abord considéré comme un virus respiratoire, le coronavirus qui s'est répandu dans le monde entier a cependant rapidement été observé comme induisant des symptômes suggérant qu'il pouvait affecter les fonctions cérébrales chez certains patients. De plus, une proportion importante de patients ne se rétablit pas complètement après une infection, souffrant d'un ensemble de séquelles appelées "Covid long". Si certains virus sont connus pour cibler spécifiquement le cerveau et le système nerveux (comme les tristement célèbres virus de la polio et de la rage), d'autres virus affectent principalement d'autres organes, indui­sant, par exemple, des symptômes respiratoires, gastro-intestinaux ou autres.
Cependant, les pandémies passées ont fourni des indices suggérant que certains virus – considérés comme ne ciblant pas le cerveau – peuvent également pro­voquer des troubles neurologiques et/ou psychiatriques chez certains patients. De plus, il s'avère que certaines infections courantes par des virus – supposés inoffensifs – peuvent induire de graves conséquences pour le cerveau, ce qui soulève la question suivante : se pourrait-il qu'au-delà des effets visibles, les virus exercent également des effets cachés, parfois après être restés silen­cieux pendant des années ? De telles hypothèses existent pour les maladies neurodégénératives courantes qui affectent notre mémoire, notre motricité et nos pensées, comme la maladie d'Alzheimer, la maladie de Parkinson, la sclérose en plaques et la schizophrénie. Si cela s'avère exact, ces maladies pourraient être considérées comme le résultat du paiement tardif d'une facture impayée pendant la jeunesse...
Qu'en est-il du coronavirus (appelé SARS-CoV2) qui a provoqué la pandémie de Covid19 ? Qu'est-ce qui caractérise les virus en général, et le SARS-CoV2 en particulier ? Pourquoi certaines personnes infectées sont-elles plus vulné­rables que d'autres ? Pourquoi et comment le SARS-CoV2 peut-il provoquer des symptômes cérébraux ? Sur la base d'exemples, cette brochure illustre comment les virus peuvent être comparés à des robots envahisseurs, dotés de la capacité d'évoluer : bien que très élémentaires à première vue, ils sont capables de déjouer des systèmes de défense avancés tels que ceux qui pro­tègent notre cerveau, de pirater nos cellules et d'exercer potentiellement des effets si tardifs que leur cause peut rester indétectée.
Ce texte examine également la question de savoir si le SARS-CoV2 pourrait également induire des maladies cérébrales tardives, comment, et souligne l'im­portance d'évaluer l'impact potentiel du Covid19 sur les maladies cérébrales à long terme. Avec pour conséquence un possible changement de regard sur le traitement des infections virales considérées comme bénignes ou guéries...
Cliquez ici pour le texte complet (pdf)
COVID19, VIRUSES AND BRAIN DISEASES
The Covid19 pandemic that arose in December 2019 remains challenging for clinicians and researchers and has reserved its share of sur­prises. First considered as a respiratory virus, the coronavirus which spread worldwide was however soon observed to induce symptoms, suggesting that it may affect brain function in some patients. Moreover, a significant proportion of patients fails to fully recover after an infection, suffering from a bunch of sequelae called 'Long Covid'. While some viruses are known to specifically target the brain and nervous system (such as the infamous polio and rabies viruses), other viruses primarily affect other organs, inducing, for example, respiratory, gastrointestinal or other symptoms.
However, past pandemics have provided clues suggesting that some viruses −consi­dered as not targeting the brain− may also cause neurological and/or psychiatric disorders in some patients. Moreover, it turns out that some common infections with −supposedly harmless− viruses can induce serious consequences for the brain, raising the following question: could it be that beyond the visible effects, viruses also exert hidden effects, sometimes after remaining silent for years? Such hypotheses exist for common neurodegenerative diseases which affect our memory, motricity and thoughts, like Alzheimer's disease, Parkinson's disease, multiple sclerosis and schizophrenia. If correct, these diseases could be regarded as the result of late payment of an unpaid bill during youth…
What about the coronavirus SARS-CoV2 that caused the Covid19 pande­mic? What characterizes viruses in general, and SARS-CoV2 in particular? Why are some infected people more vulnerable than others? Why and how might SARS-CoV2 cause brain symptoms? Based on examples, this booklet illustrates how viruses may be compared to invading robots, endowed with the ability to evolve: even though elementary at a first look, they are able to defeat very advanced defense systems such as those that protect our brain, to hack into our cells, and potentially exert effects so late, that their cause might remain undetected.
It also considers the question of whether SARSCoV2 might also induce late brain diseases, how, and highlights the importance of assessing the potential impact of Covid19 on brain diseases on the long-term. One obvious conse­quence being the necessary change of view on the treatment of viral infections considered as benign or cured...